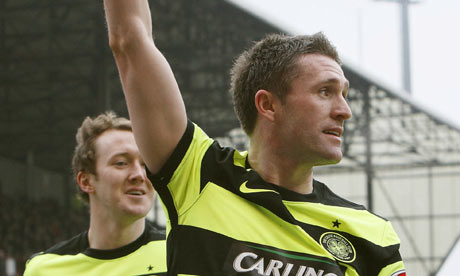 Friday, 9 April 2010
Neil Lennon will beg Robbie Keane to stay on at Celtic Park next season.
The Republic of Ireland star has scored 12 goals in 12 games since signing on loan from Tottenham in January.
Most people expect Keane to return to London in the summer and Spurs boss Harry Redknapp recently said that there was no chance that his striker would remain at Parkhead.
Ahead of the Active Nation Scottish Cup semi-final against Ross County at Hampden, Keane, not for the first time, skirted around the issue, saying: 'From day one I've said that I don't want to speak about it until the end of the season.'
However, Hoops interim boss Lennon revealed he will use some desperate measures to persuade the former Liverpool striker to extend his stay in the east end of Glasgow.
'I'm not giving up on him staying,' Lennon said. 'It will ultimately be Robbie's decision but I will be begging him every day from here on in to stay if he can.
'We need that calibre of player at a club like this, we need a 25-30 goals-a-season player if we can go out and get them.
'He is world class. His pedigree, calibre and his record speaks for itself.
'He's a very intelligent footballer, he has a cool head under pressure and is a good finisher, and he has that touch of charisma that all the good players have.
'He can stand up against anyone in Britain and parts of Europe as well and he's been a huge player for us in the short time he has been here.'
Lennon's own future will be decided at the end of the season but the Irishman admits defeat against the Irn-Bru First Division side would 'diminish' his chances of getting the post on a full-time basis.
Asked about the implications of what would be a shock defeat, the former Celtic captain said: 'It would diminish my opportunity. It won't all hinge on the one game but ultimately I would be disappointed if we didn't go through and I would certainly have a look at myself and ask the questions as to why.
'But I am trying to be as positive as possible and I think we have a decent enough chance of going through. It's a huge game for us in terms of our season.
'We are two games away from winning a bit of silverware and winning would give the players an incentive for the rest of the season.
'We are on a hiding to nothing really but that's what it is here most weeks. If we win we are expected to win and if we lose it's a disaster.
'But it's a challenge and I enjoy the challenge. I think I have got a good chance (of getting the job). But no matter what happens I will view it as a positive experience. I am relishing it and whether it goes wrong or doesn't go wrong I will put the experience to good use the next time, wherever that will be.'