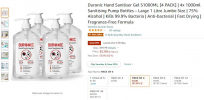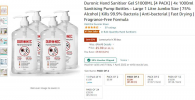 Clip the voucher box firstly, can be used on any pack size in this product.
Voucher available for this product:
Save 50% on 50% Off Duronic Hand Sanitisers
Save 50% with this voucher. Discount at checkout.
Valid until 01 April 2022
Each voucher only applies to a specified item or items ("Qualifying Item(s)") . You can see the Qualifying Item(s) for any voucher by clicking on the voucher.
How to redeem the voucher:
Add the voucher to your Shopping Basket by clicking the "Collect this Voucher" button. Each voucher is only valid for a limited time or while stocks last. Once you have collected a voucher, the date by which you must redeem it (the "Expiry Date") will be displayed on the voucher. You will usually have until 23:59 on the Expiry Date to redeem the voucher. Quantities are limited and collected vouchers may expire before the Expiry Date.
To redeem the voucher by making a one-off purchase:
Add a Qualifying Item to your Shopping Basket by clicking the "Add to Basket" button.
When you're done shopping, click the "Proceed to Checkout" button and place your order for the Qualifying Item.
The voucher discount will be automatically applied at checkout, reducing the price of one Qualifying Item. If you checkout with more than one Qualifying Item in your basket, the discount will only apply to the cheapest Qualifying Item. If the discount has been applied successfully, it will appear on the final Checkout page.
Price
Was £15.79
Now £2.99
Duronic Hand Sanitiser Gel [4 PACK] | 4x 1000ml Sanitising Pump Bottles @ Duronic via Amazon - hotukdeals