A couple of issues since reflashing ATV 6.4 and Infinity I hope someone can help me out with.
EPG - If I am on a +1 channel and press EPG button it now goes to the +1 tab - It used to go to Entertainment tab 101 BBC1.
Not a biggie, I just prefer it to start in the main tab.
Stat mode is set to Channel 1 in the menu.
Movie Organiser - Pressing the File List button or Recordings while in EPG opens a small box in the center of the screen, everything is there but I preferred it when it was full screen.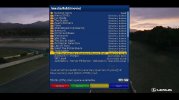 I have tried changing setting to Sky Planner in menu/use extended list and it makes no difference.
Cheers for any help.