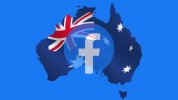 Can't say I've ever sympathised with Facebook on anything, but when I heard the Australian government about to pass a law
to force Facebook (and Google) to pay media organisations for hosting their news content. that as far I'm aware Facebook hadn't
requested (unless I'm missing something here?)

I think Facebook's reaction was perfectly correct to blockage all links of media organisations in Australia, given they don't want to pay
for hosting news content that they haven't requested.

Reading this report, I believe Australia has passed their law but watered down the orginal law proposition so that
facebook can now choose which media organisations to contract with...

The best idea is for media organisations to put their content behind a pay wall, if they're concenered about
folks sharing their news content on other media platforms.

Here's the news report, but I've to wonder if I'm missing something here, because it would seem everyone's against
facebook that's reporting on this, or is that because it is the media organisations reporting on it that feel hard done by?
Source
Code:
https://www.dailymail.co.uk/news/article-9297255/Australia-passes-world-new-law-forcing-Facebook-Google-pay-news.html