VIP Member
Forum Supporter
Ok guys and gals heres whats up, i have this pic here that i want to make my avatar, but i dont want to crop and save it/upload it to the server i want my avatar to be uploaded directly to this site all of the time because sometime i change my avatar and i want this site to reflect that. (My avatar is my person on xbox 360 you can chage their looks and clothing) so here is what my guy looks like....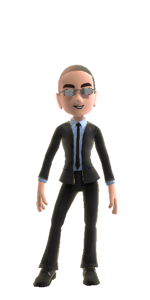 and here is the link to the constant updated graphic
http://avatar.xboxlive.com/avatar/xx homesick xx/avatar-body.png
can someone help me get my person into my avatar so he is constantly updated?
please???
thanks for your help!!!
BTW i realize his actual size is too big for the space we are allowed for our avatars so i am willing to shrink him, if possible... :)
i would just like to have the upper portion of the character. if i used his whole body it would be so far zoomed out it wouldn't be cool to look at.
Last edited: