*Courtsey of member leerage from AD*
Some people have said that the Jungle Flasher tutorial seemed a bit confusing so I am making this tutorial to make it a bit easier to understand!
This image tutorial was created to show you how to read and flash a stock Samsung MS28 with Jungle Flasher.
The "Sammy Unlock" is to only be used on a
STOCK SAMSUNG MS28
. If you have a flashed MS28 or a stock/flashed MS25, you will need to use the Intro/Device ID method explained in the trouble shooting steps"
Things you will need:
Jungle Flasher v0.1.64
iXtreme 1.6 for Samsung
Compatible SATA chipset
SATA cable.
PortIO installed (requires 32bit Operating System)
.Net Framework 2.0 or higher
DVD connectivity kit (optional)
Make sure to have iXtreme 1.6 for Samsung in the firmware folder that is within the Jungle Flasher folder so you can utilize the autospoof feature!
If your onboard SATA is compatible, you can skip the steps for removing the VIA driver.
In this tutorial I am using a VIA SATA card with the 6421 chipset.

I have removed the VIA driver from C:\WINDOWS\System32\drivers folder.
To remove the VIA driver:
1. Disable VIA card in Device Manager.
2. Go to C:\WINDOWS\System32\drivers and remove "
viamraid.sys
" or "
vsmraid.sys
".
3. Re-Enable VIA card in Device Manager.
4. Re-Boot PC.
First you will want to check a couple of things.
Make sure the VIA driver is not installed by checking in Device Manager. Notice the yellow exclamation mark.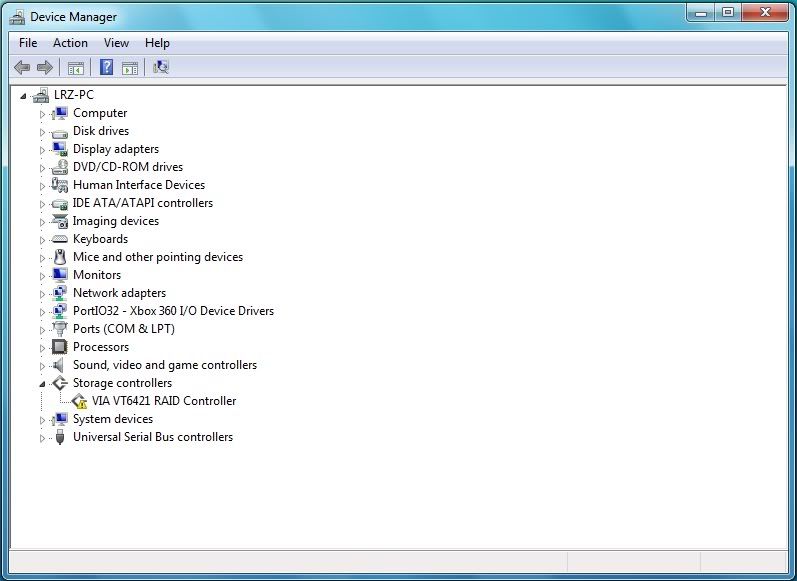 You also need to have PortIO and .Net 2.0 or higher installed. PortIO is included with Jungle Flasher and .Net can be obtained from Microsoft.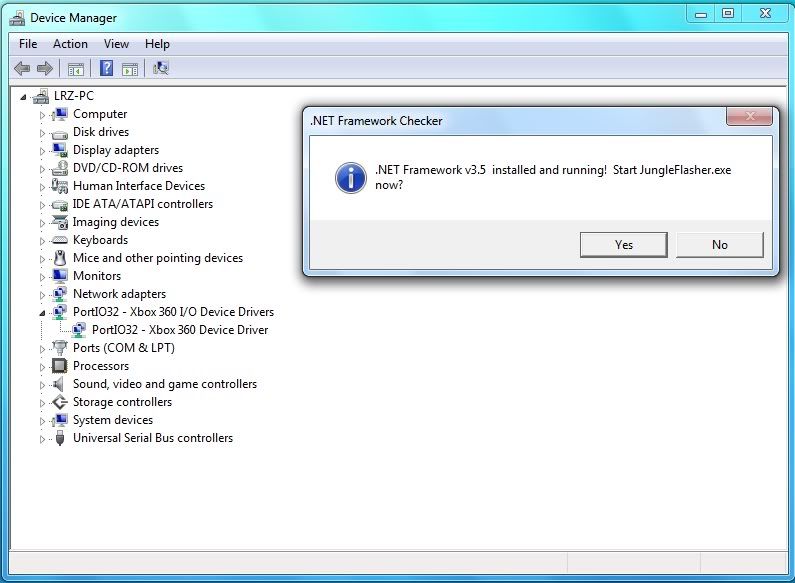 Go ahead and power on your Samsung drive with your connectivity kit or the XBOX 360.
Start up Jungle Flasher and go to the MTKFlash 32 tab. You might have to change the IO Port to find your Samsung.
Once you find it, you should see the properties listed under Drive properties.

Since this is a stock drive, you will want to click Sammy unlock and you should see the following in the picture.
Notice the Flash Chip properties and now the Drive properties says Vendor Mode!
If you are having problems with Sammy Unlock, see the troubleshooting pics at the bottom of the tutorial

Go ahead and click

READ

and once it is complete Jungle Flasher will prompt you to save your firmware.
Save your firmware in a location where you won't delete it or lose it!

Jungle Flasher will prompt you to autload iXtreme firmware. Click

YES

.

This is the result of clicking

YES

. Jungle flasher will autload iXtreme 1.6 for Samsung and spoof your information over.
Double check your original firmware to make sure you have a legitimate key.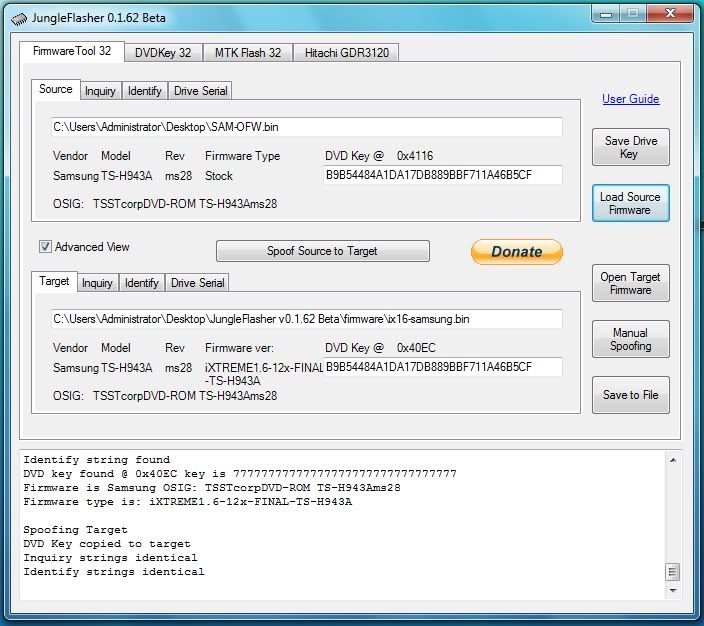 Go back to the MTKFlash 32 tab and click

WRITE

. It will write banks 0, 1, 2, and 3. Then it will verify banks 0, 1, 2, and 3.
Make sure that it says write verify OK.
At this point you can click Outro/ ATA reset.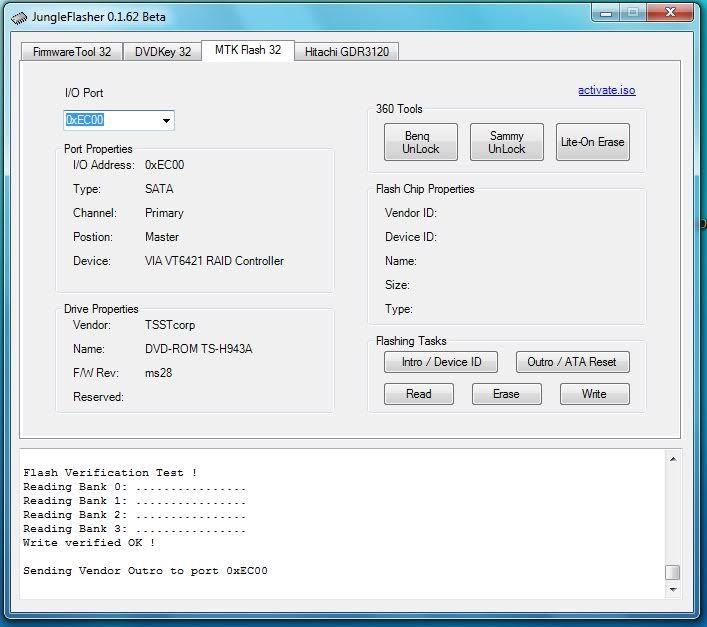 Go ahead and shut off your connectivity kit or XBOX 360. Reconnect the drive and SATA cable and test out a Back-Up copy!

-------------

--

Problems with Sammy Unlock

?--

----------------


Sometimes the Sammy Unlock will fail.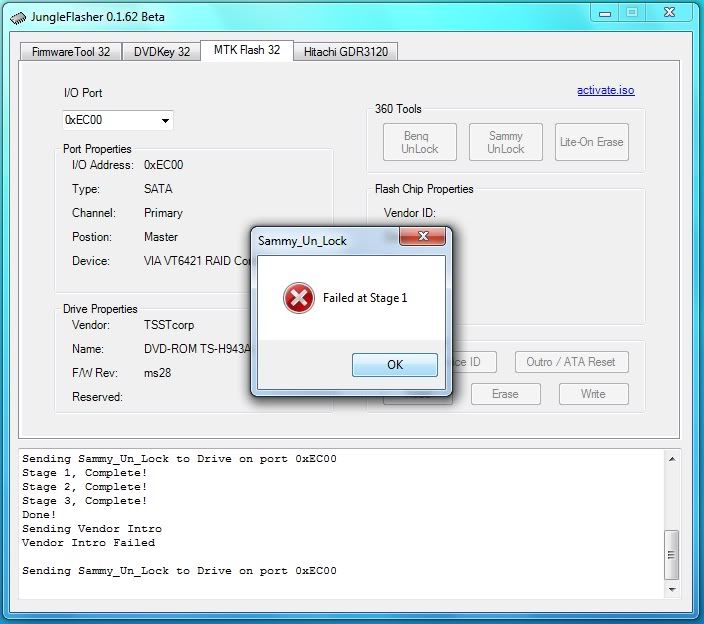 To get good flash chip properties, we need to send the Intro to the Samsung drive, and then power cycle to get into vendor mode.
After you click

YES

, Shut the drive off for 1 second and then power back on
This is the result. Good flash chip properties and ready to read firmware.