Admin
Staff member
TK Supporter
Right guys and girls, it's time for the annual how the money from the raffles is being used thread.
It's not that I think anyone mistrusts me, it is just that I think several people like to see the work that we are doing here.
I had hoped to start this several weeks ago, but my phone with the first shop photos on was nicked on holiday in Spain.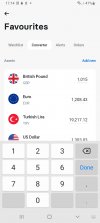 So the starting total, based on the conversion rate on the day it was sent to me is €1208.43, so let's call it €1209.
The first shop cost €94 euro and consisted of crisps, chocolate and biscuits.
Then this Saturday gone, we went and spent €198.


We were able to get 5 boxes of crisps, 4 boxes of popcorn, loads of creme eggs that were reduced to a ridiculous €1 for 5 eggs, large bars of chocolate, protein bars, biscuits, and a couple of boxes of tea cakes.
We brought it down to the guys and filled the van.


So that's €292 spent, leaving a running total of €917 left to spend on this wonderful effort.
Again, many thanks to all that took part in the raffles and who made personal donations.