StreamPro Generation1 The Next-Generation Digital Media Streaming Player
AVAILABLE FOR TRADE RESELLER | COST EFFECTIVE OPTION!
Mag Box Style with Stalker running
Android OS
ADD YOUR OWN RESELLER/CLIENT APPS!
Key Benefits:
​
Android Open Source Project (AOSP) = Can Side Load Apps or add XC Api​

Two App Stores = Aptoide & Play Store​

StreamPro EMU Stalker App with Multiple Video Players​

Ultra 4K​

Dual Band 5G Wi-Fi​

2GB RAM & 8GB EMMC Storage​
KUUL MEDIA ARE THE OFFICIAL DISTRIBUTOR FOR STREAMPRO FOR
UK, IRELAND AND THE EU. CONTACT US FOR TRADE SALES.
Call us: +44 208 004 0331
StreamPro G1 UHD 4K EMU & Android 5G 2GB RAM 8GB Storage IPTV OTT Set Top Box​
Get streaming your favourite shows and media with StreamPro Generation 1. A stunning Ultra HD 4K experience,
StreamPro comes offers 2GB Ram, 8GB Memory, Android 7.1, and Dual-Band Wi-Fi 5G.
The StreamPro G1 is powered by Android and features a customised UI and Launcher for a better streaming experience. StreamPro EMU application is a video player for content from your IPTV/OTT/VOD providers that use Opensource Middleware's. Other Emulators are designed for mobile devices while StreamPro EMU is TV-friendly
and designed for TV use.
Customer and Resellers can remote access the StreamPro to offer additional support wherever they are!
See details below.
Key Features​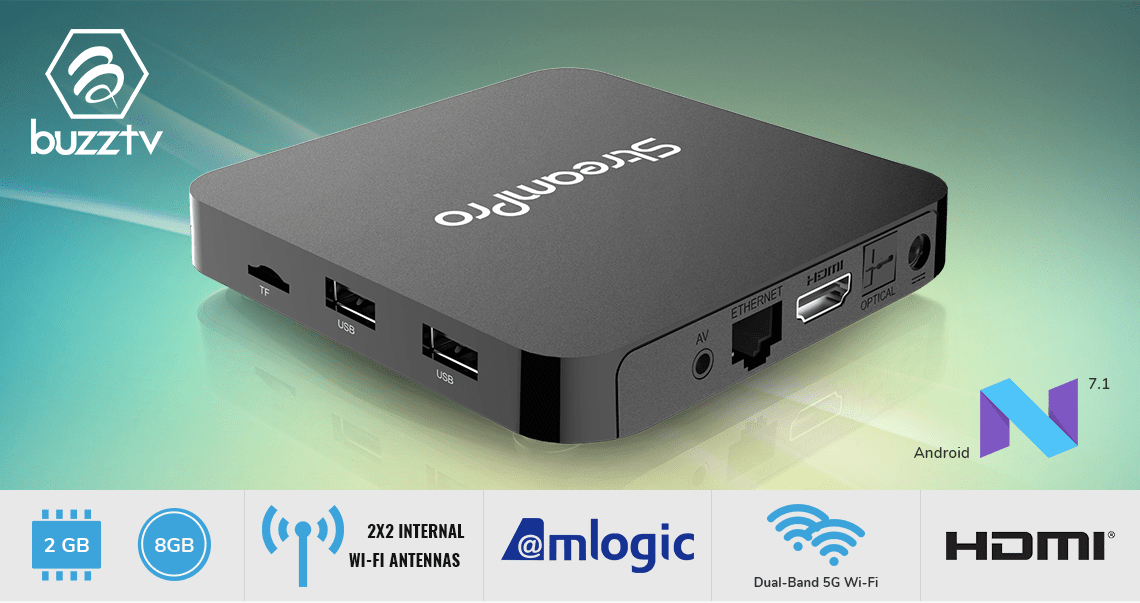 StreamPro G1 Features​
2GB DDR3 RAM
8GB Internal Memory (plus expandable by Micro SD card)
2x2 Internal Wi-Fi Antennas for optimised network gain
Android OS 7.1.2
Amlogic S905W
Thermal Reduction Metal Base
OTA Updates
Android 7.1 64bit OS
2GB RAM
8GB Internal Memory
Optical Output
HDMI
Dual-Band 5G Wi-Fi
TV Learning Remote Control
Bluetooth
Buzztv Global Power Supply USB Adapter with integrated Flip up design for USA/Canada 2 Pin and includes UK and Euro interchangeable attachments.
StreamPro Generation G1 is an affordable solution with the well known Android 7.1 Nougat operating system. Designed for IPTV OTT, this set top not only offer offers great specs, but it also offers an Emulator
app also known as EMU.
EMU is an open-source middleware that has a simplistic and classic viewing option and with easy navigation such as EPG (Electronic Program Guide) and Single EPG.
What is unique about the StreamPro is It includes Android operating system as well as built-in EMU application so you can download applications from the Play Store or Aptoide Store or side load apps via USB or micro SD card.
Hardware​
The Stream Pro has a full thermal reduction metal base plate to allow heat to disperse, maintaining longevity of the mainboard processors. The StreamPro top housing has a clean matt finish with a StreamPro Logo on top.
The right side of the housing offers 2x USB 2.0, 1x TF Card Slot. The rear includes, A/V, Ethernet LAN, HDMI, Optical and a power connection. The front end of the StreamPro has a clean finish with LED indicator for Power/Standby display.
STREAMPRO G1 REMOTE CONTROL WITH TV LEARNING OPTION​
StreamPro remote control is built to high standards with perfectly aligned low profile buttons and dynamic contour lines, the remote control feels flawless.
Customer or reseller can access remote access the StreamPro to offer additional support from the remote control. Simply press 'Quick Support' and obtain the ID number.
Press the settings key to gain quick access to Network, Display, Sound, Apps, Storage and many more settings.
Load your EMU app quick a simple touch of a button. Without the need to scroll though applications.
Control your TV Power or Source feature by programming the remote to power your TV ON/OFF and Change HDMI Source.
Product Specifications​
CPU: Amlogic Quad Core ARM Cortex-A53 @ up to 1.5GHz
GPU: Penta-Core Mali-450MP GPU @ 750 MHz
RAM: 2GB DDR3
STORAGE: 8GB
OS: Android 7.1.2
WIFI:2.4GHz + 5GHz + 2X2 WIFI + Bluetooth 4+
Ethernet:10/100 Mbps Lan
3D:Hardware 3D graphics acceleration
Audio Decoder: Supports MP3, AAC, WMA, RM, FLAC, OGG
USB host: 2X High-speed USB 2.0
Card reader: TF cards
HDD file system: FAT16/FAT32/NTFS
Support Subtitle:SRT/SMI/SUB/SSA/IDX+USB
OSD type of languages:English/French/German/Spanish/Italian/ etc multilateral languages
Resolution output: 4K/2K Output, CEC and, 4K/2K@30 max
Resolution output: 4K/2K H.265 Hardware Video Decode and 4K/2K Output.
Whats In the Box
StreamPro Generation 1 Android + EMU Media Player
StreamPro Remote Control Unit
Two AAA Batteries
Buzztv Global Power Supply USB Adapter – Includes integrated USA/Canada Flip up 2 Pin and UK 3 Pin and Euro 2 Pin attachments
USB to DC Cable (For power Supply)
HDMI Cable
Quick Start User Manual
Note​
Features listed here may require additional and/or periodic firmware updates. We are not responsible for third party firmware and features, addons, patches or third-party services and the availability of such services on this receiver (such as YouTube, etc.). Your warranty covers receiver hardware only and is not extended to software updates or setup, we may however extend this at our discretion to offer support for FTA (free to air) reception where the service provider permits connection to their network. Note that StreamPro does not come with any channels, video content or portals pre-loaded.