Kodi SHUTDOWN: Streaming add-on developers told to cease and desist

Developers behind Kodi add-ons are purportedly being targeted by legal action
KODI developers have been told to cease-and-desist, following new action from the Alliance For Creativity and Entertainment, which counts a number of influential Hollywood studios amongst its members.
The latest crackdown on the illegal streaming community comes courtesy of the Alliance For Creativity and Entertainment.

The coalition, which counts Amazon, Netflix, CBS, HBO, BBC, and Sky among its members, has sent out cease-and-desist letters to a number of third-party add-on creators and distributors, piracy blog TorrentFreak reports.

For those who don't know, Kodi is a neutral, open-source media player that can be installed on a broad range of devices – from discount set-top boxes powered by Android, to known brands, like Amazon Fire TV Stick.

Apps – known as add-ons within the community – can be built by third-party developers to allow users to stream premium content, like paid-for sports and movie channels for free.

The abundance of these illegal streaming add-ons has left Kodi with an unfortunate reputation.

Kodi: Ever streamed with Kodi? Here's what is legal, and what is not


So-called Kodi Boxes are set-top boxes, manufactured by a number of different brands, with all the requisite add-ons to stream paid-for content for free preinstalled.

Some users with Kodi-powered hardware even pay pirates a monthly fee to access streams of premium content, including Sky Sports and BT Sports.

ACE – Alliance for Creativity and Entertainment – was formed last year and includes the some of the most powerful studios and content creators around, such as Amazon, Sky, HBO, BBC Worldwide, Netflix and Twentieth Century Fox.

The Alliance for Creativity and Entertainment is focused on building efforts to curtail online piracy.

The coalition vowed to conduct its own research and work alongside law enforcement as part of its anti-piracy efforts, the group revealed in a press release following its creation last year.

"As more creative content moves online, piracy poses a continuing threat to creators, consumers, and the economy," said Alliance for Creativity and Entertainment in a statement.

"Films and television shows can often be found on pirate sites within days – and in many cases hours – of release.

"Last year, there were an estimated 5.4 billion downloads of pirated wide release films and primetime television and VOD shows using peer-to-peer protocols worldwide.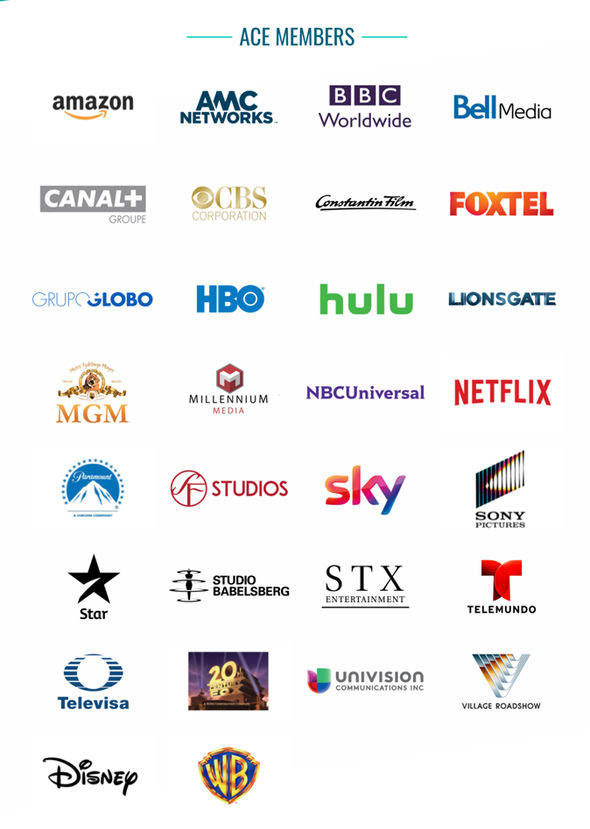 ACE

Alliance For Creativity and Entertainment contains a number of powerful media companies
ADVERTISEMENT

"There were also an estimated 21.4 billion total visits to streaming piracy sites worldwide across both desktops and mobile devices in 2016.

"Piracy also puts consumers at risk.

"One in three pirate sites target consumers with malware that can lead to a range of problems including identify theft and financial loss, according to a December 2015 report by Digital Citizens Alliance.

"By bringing together global creative companies producing all forms of content, ACE will expand ongoing, cooperative efforts to reduce the prevalence of online piracy."

And now it appears they have sprung into action.





Developers have started to receive cease-and-desist letters from ACE
A number of popular add-on developers from the Kodi community – as well as those involved in the production of how-to videos on YouTube – claim to have received letters from ACE.

As noted by TorrentFreak, the first report of action came from TVAddons, who claimed the lead developer at the Noobs and Nerds repository was targeted with a cease-and-desist notice.

TVAddons added that people from the Noobs and Nerds site had been "visited at their homes".

Their official Twitter account has also been disabled.

SpinzTV, which offers unofficial Kodi builds, is also purportedly under the spotlight.

It is a sad day for the SpinzTV team and we must now say goodbye. Thank you all for your support over the years. Aldo thank you to all the devs that helped make us what we became. @spinz_tv @connjam @PremiumLite

— SpezC (@SpezC1) February 13, 2018
The developer announced plans to call time on the development of the Kodi software in a tweet.

"It is a sad day for the SpinzTV team and we must now say goodbye.

"Thank you all for your support over the years," the Kodi developer posted.